Isle of Man Queen Scallop fishing restrictions in place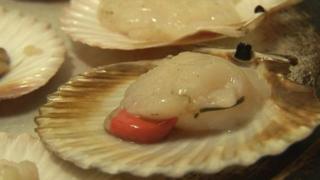 Restrictions on this year's Queen Scallop fishing season in Manx territorial waters have been announced by the Isle of Man government.
A spokesman said the fishery will open on 7 July, despite concerns about dwindling shell fish stocks.
He added that fishing can only take place from Monday to Thursday between 06:00 and to 16:00 with all catches landed in a Manx port.
Recent research showed a 50% fall in reserves of Queen Scallops.
The island's territorial waters stretch about 12 miles from the coast of the Isle of Man.
A number of areas will be closed to vessels, including the Targets, East Douglas, the Point of Ayre and South of Chicken Rock.
A full list of the new rules is available online.
The Queen Scallop (aequipecten opercularis) is a bivalve mollusc which can grow up to 9cm in diameter and is found at depths of 100m. It feeds on plankton and swims by squirting jets of water.
It is one of the Isle of Man's most popular exports, with local producers supplying to a number of top restaurants in the UK.