Isle of Man ferry engine failure prompts timetable changes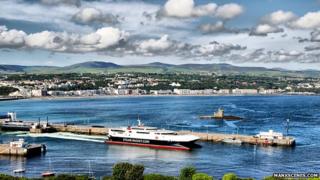 A mechanical issue with a Manx ferry has led to a revised departure schedule being introduced by the Isle of Man Steam Packet Company.
Last week they announced that Manannan was operating on reduced power after an issue with one of its four engines.
From 17 July to 13 August all 15:00 BST sailings from Douglas to Liverpool will depart at 15:45, with the return 19:15 sailing departing at 20:00.
The company said it was making "every effort" to contact passengers.
The engine issue is still being investigated but is believed to be connected to a failed crankshaft.
A spokesman said repairs were "provisionally planned for mid-September".