Isle of Man opts for international GCSE system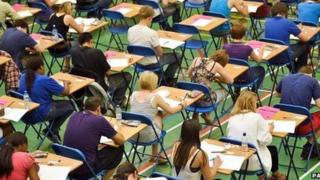 Changes to the GCSE examination system in the Isle of Man have been announced following a major overhaul in England.
In the July sitting of Tynwald it was announced that Manx secondary schools would adopt the International GCSE (IGSCE) from September.
It follows an island-wide public consultation which attracted more than 800 submissions between April and May.
Changes in the UK mean exam boards currently used on the Isle of Man will no longer exist from 2015.
The three alternatives considered by the Isle of Man education department were the new English GCSEs, the IGSCE and the Scottish National system.
The government said the system chosen would be used in a core group of subjects, including English, maths, sciences, geography, history, art, music and PE.
Where it is not offered schools will be asked to use a single examination board.