Isle of Man marine protection group launched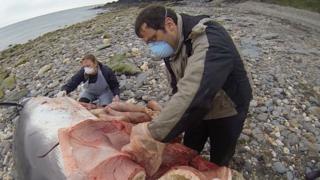 A new marine protection campaign group has been launched on the Isle of Man to highlight issues affecting the health of the Irish Sea.
The Manx Society for Marine Conservation (ManxSMC) also aims to discover more about the ecosystem to help inform future conservation plans.
The group is headed by scientists Becca Crow and Haley Dolton who plan to use social media to highlight campaigns.
Ms Crow said: "The island has a unique and very special marine environment."
She added: "We need to understand the ecosystem as a whole because it makes it hard to implement effective conservation plans without this overview.
"We don't want to preach. We all know what may have a damaging effect on the oceans, but by following some of our suggestions you can minimize your impact on the marine environment."