Centenary photo display at Manx agricultural show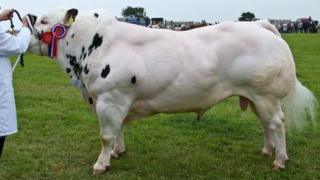 A photographic display celebrating 100 years of Isle of Man farming is helping mark the Southern Agricultural show's centenary year.
The two-day celebration of Manx agriculture will be held at Great Meadow on Saturday and Sunday.
The exhibition features a wealth of historic images sourced from the archives at Manx National Heritage.
Show Secretary, Sarah Comish said: "It gives a wonderful overview of the industry throughout the years."
She added: "There are some fantastic images, my favourites are of the farmers and their families- we have seen some wonderful characters over the years and so many still involved."
On Saturday the show is open to the public from 10:00 BST (and 11:00 on Sunday) when hundreds of animals from all over the island will be entered in various classes.
The highlight will be the crowning of the supreme champion in the afternoon.