Isle of Man police absence falls 'substantially'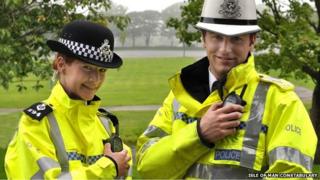 The number of Isle of Man police officers taking sick leave has fallen "substantially", the government said.
The annual constabulary report said figures for 2013-14 showed a 16% drop in the number of days lost per officer, compared with the previous year.
It means that 1,426 working days were lost to sickness for 2013-14, down from 1,695.5 for 2012-13.
Home Affairs Minister Juan Watterson said the "substantial fall counters the myth that officers are frequently off".
He added the changes happened "against a backdrop of reducing police numbers, as the constabulary continued its reorganisation in line with budget challenges".
Earlier this month the chief constable announced the loss of 26 police posts to achieve "challenging financial targets".