How an Isle of Man vicar tracked his flock during WW1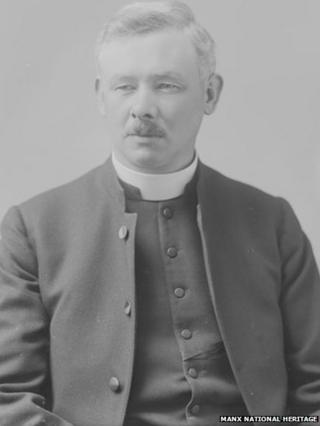 A series of hand written notebooks, uncovered by Manx National Heritage (MNH), show how a vicar on the Isle of Man kept track of his flock during World War One.
Canon Kermode from Douglas compiled 14 books detailing the whereabouts and condition of each of the soldiers from his congregation.
The vicar from St George's Church, was creating a record which, 100 years later, would provide a valuable source of information for historians.
Wendy Thirkettle from MNH said: "I believe these files were produced for pastoral purposes, as an aid to Canon Kermode, for his eyes only, and as such, they appear to be candid, lacking embellishment and written up as accurately as possible so that he would have the most up to date information to hand.
"They supplement official military service records by including more personal information and circumstances- this enhances their research potential for both historians and family researchers".
Cambridge-educated Robert Daniel Kermode, who entered the priesthood in 1894, took charge of St George's Church, Douglas, in 1908.
During the war years he developed a system which kept a record of more than 1,000 men from his parish between 1914 and 1918.
The files show how a significant proportion of Douglas men were mobilised and dispersed across the three armed forces.
Ms Thirkettle said: "It is the power of the individual story that is their main strength. Man after man is recorded, one person to a page.
"Some of the tersest entries can be the most poignant; other more detailed entries provide depth, colour and a hint of the anguish that some news produced".
In his notes, Canon Kermode recoded the rank, unit and last known whereabouts of the Manx soldiers - he used coloured crayons to denote whether the man was wounded or killed.
A blue underline showed the man had been wounded, whereas a red line through the page indicated the soldier had been killed on duty.
Wendy Thirkettle from MNH said "Canon Kermode, perhaps unwittingly, has produced a testament to these men.
"In documenting their war he has done future generations a service, bearing witness to their lives and those of loved ones on the Home Front".
Official records show that 8,261 men enlisted in the armed forces during World War One, 82% of the Isle of Man's male population of military age.
In June 1919 Canon Kermode announced his early resignation but returned to the ministry in 1920 serving the parish of Lezayre until his retirement in 1939.
He died in 1948 at the age of seventy-nine.
The note books are held at the Manx Museum library and have recently been made available via the iMuseum to complement the Manx Museum's WWI exhibition.