Summerland fire victims remembered in Douglas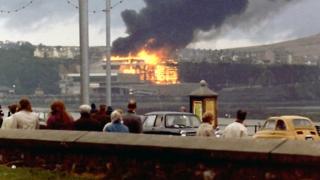 A minute's silence will be held later to remember those who died in the Summerland fire disaster, 41 years after the Isle of Man tragedy.
About 3,000 holidaymakers were inside the leisure complex on Douglas promenade when fire swept through the building on 2 August 1973.
The blaze, sparked by three boys illicitly smoking, killed 50 people and gutted the complex within minutes.
The ceremony will take place at 19:30 BST opposite the Summerland site.
Organiser Tina Brennan said 50 balloons would also be released, one for each of the fire victims.
The Summerland disaster led to changes in fire regulations in the Isle of Man, the UK and around the world.