Rare cars arrive for Isle of Man P50 festival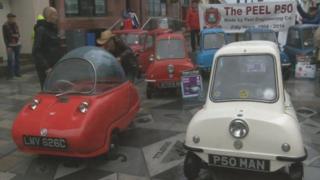 Motoring enthusiasts congregated on the Isle of Man to celebrate the 50th anniversary of the P50 micro car.
The P50 and Trident models were first manufactured on the west coast of the island in 1964 by Peel Engineering.
The festival will culminate on Saturday when about 12 cars drive to Peel, where they were originally made.
P50 owner, Neil Hansan said: "There are probably only about 30 of these models left in the world so it is great to see so many returning for this event."
He added: "I think my car is the only Peel car in existence which has never been off the Isle of Man- it is something I take great pride in as a Manx man.
"It is, after all, from the Manx motor industry".
Designed and built by Cyril Cannell and Henry Kissack, the P50, has three wheels, one headlight, three gears and no reverse.
It is the smallest vehicle to go into mass production, at 134cm (53in) long and 99cm (39in) wide, with a weight of just 59kg (132lbs)- its 49cc engine allowed a top speed of 38mph (61km/h).
Isle of Man Post Office has created a series of stamps to mark the occasion.