Isle of Man film wins national sheep farming award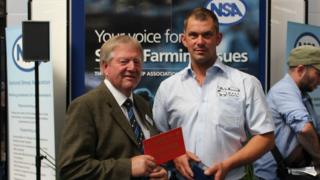 A film on sustainable farming in the Isle of Man has been awarded top prize in an annual competition, run by the National Sheep Association.
The documentary, made by Krista Magee, featured several Manx farms, focussing mainly on BallaKarran in Union Mills.
It was chosen by three association judges as the best film for 2014 from five shortlisted entries.
A spokeswoman from BallaKarran said it was the perfect opportunity to showcase Manx farming.
She added: "The island is such a beautiful place to live, it was easy to show off how outstanding it is.
"We are first generation farmers and the competition seemed appropriate for us to get involved in, to help the National Sheep Association show what can be achieved with some hard work, motivation and commitment".
Joanne Briggs from the National Sheep Association said the Isle of Man entry was chosen because "it was very professional and fitted the brief perfectly."