Manx flags stolen from Dunkirk war memorial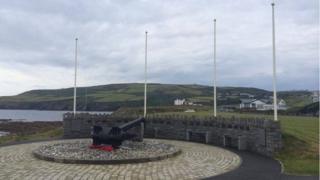 Four Isle of Man flags have been stolen from a Dunkirk war memorial in the south of the island.
A police spokesman said the theft from the Mona's Queen III Anchor Memorial at Kallow Point in Port St Mary happened some time over the weekend.
The memorial commemorates Manx men and women who served in the Merchant Navy during the evacuation of Dunkirk.
A Isle of Man police spokesman said the theft was "badly timed and showed a complete lack of respect".
Anyone with information is asked to contact Port Erin police station.