IoM Glasgow 2014 team manager speaks of 'pride' at success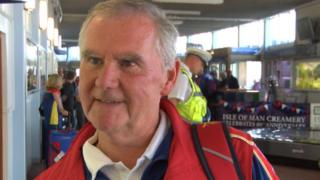 The manager of the Isle of Man team that took part in Glasgow 2014, has spoken of his pride at their success.
Forty-five athletes from the island competed in nine sports at the Games, with cyclist Peter Kennaugh coming in second in the men's 40km points race.
He finished with 84 points, 14 behind winner Thomas Scully of New Zealand.
Trevor Taubman said: "I couldn't be prouder of the team - they have had huge success and performed fantastically and professionally."
The Commonwealth Games is the highest level at which a Manx sportsman or woman can represent the island.
Mr Taubman added: "It is nice to have medals and we are extremely proud of Peter for his performance but we came so close in a number of other areas.
"I am seeing a lot of young people on this team who will be in a position to get a medal next time, that makes me very happy".