Isle of Man to host 2015 Conifa European Football Championship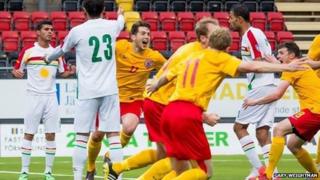 The Isle of Man has been chosen as next year's host for the ConIFA European Football Championship, it has been announced.
The week long tournament will take place between the 13 and 21 June at The Bowl in Douglas.
The inaugural tournament of the world cup for non-Fifa nations was held earlier this year in Östersund, Sweden.
The Manx International Football Alliance said twelve international teams will be invited to compete.
A spokesman said it will be a "fantastic football tournament" and a "cultural and heritage experience".
This year's competition in Sweden was the first time Ellan Vannin had ever competed internationally.