Royal Manx Agricultural Show 2014 opens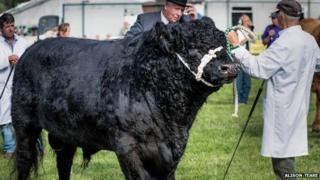 The annual Royal Manx Agricultural Show has opened, with thousands expected to attend across the next two days.
More than 20,000 people attended the farming celebration in 2013.
The show at Knockaloe Farm in Patrick, will see traditional livestock competitions and has more than 140 stands on the 19 acre (7 hectare) site.
Show secretary Christine Pain said: "We are expecting about 20,000 people over the next two days and thousands have been involved in the organising."
"It's amazing how many people get involved, from the children who make the posters during their school lessons right up to the farmers who bring livestock," she added.
"It's a true community event, people can expect to see a very colourful field with everything from knitting displays, dog shows, falconry and of course, the best livestock on the Isle of Man".
The event culminates on Saturday afternoon when judges will choose this year's Supreme Champion in the main livestock event.
Last year, John Teare's five-year-old Galloway bull was the winner.
The two-day farming event was first held in the Isle of Man in 1858. It is the fourth time the show has been held in Patrick after moving from Sulby in 2010.