Emergency Isle of Man aid for Gaza crisis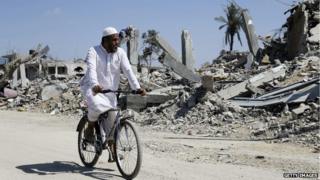 The Isle of Man's International Development committee has donated £50,000 to help charities dealing with the humanitarian crisis in Gaza.
Thousands of people have died in the conflict, and an estimated 520,000 have fled their homes.
The Isle of Man is supporting two of charities working in the area - Human Appeal and HelpAge International.
A Manx government spokesman said the money will be used to distribute food packs, medical kits and mobility aids.
Committee chairman Phil Gawne, said: 'Weeks of conflict have left people in Gaza in desperate need of food, shelter and medical supplies.
"These charities urgently need funding to deliver emergency aid and our donations will add to those of other nations to help to improve the lives of thousands of vulnerable people".