WW1 experts 'shed new light' on Isle of Man internment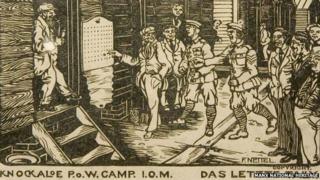 A group of international historians will gather at the Manx Museum next month to "shed new light" on the role of the Isle of Man as an internment centre during World War One.
Matthew Richardson, from Manx National Heritage (MNH), said: "It was a hugely significant time on the island and September marks the 100th anniversary of the first Germans arrested in Britain arriving on the Isle of Man to be held as internees.
"The move changed island life significantly and for a social historian it makes for one of the richest times in Manx history.
"This conference has been arranged to coincide with the centenary anniversary - the calibre of speakers is so high, I am sure it will shed new light on this unusual period."
In September 1914, the Isle of Man's thriving tourist season was drawing to a close for the year.
Traditionally it was a quiet time of year for islanders, many of whom used the month to take stock, count up their summer incomes and prepare for the long winter ahead.
But this year there was no time for reflection.
With the outbreak of WW1, the island had been chosen by British Intelligence as the place to house the German and Austrian civilians, now thought to be a threat to national security.
The island was about to see its population increase by around 25,000 as it became the second largest settlement of internees in the British Isles during WW1.
Between 1914 and 1919 there were two main internment sites on the island- a requisitioned holiday camp in Douglas and a purpose-built camp on agricultural land at Knockaloe, near the western town of Peel.
The latter, the more rural of the two locations, consisted of prefabricated huts. Its population peaked in July 1916 at 22,769 men and the smaller Douglas camp held around 5,000.
Knockaloe had 23 compounds divided between four camps and, as such, needed its own railway line and post office.
"The role of the Isle of Man as an internment centre is one that we are still unravelling almost 100 years later, and new and revealing pieces of information continue to come to light, telling us more about what life was like in the camps of Douglas and Knockaloe," added Mr Richardson.
The conference takes place on 13 and 14 September at the Manx Museum.