'Almost 2,000' bikers complete Joey Dunlop memorial lap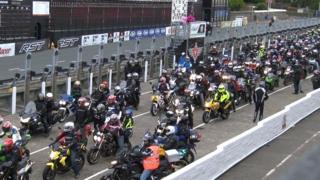 "Almost 2,000" bikers have taken part in a memorial lap of the Isle of Man TT course to honour the event's all-time leading winner Joey Dunlop.
The annual tribute started from the TT grandstand before the bikers were led around the course under police escort.
Dunlop, 48, died at a race in Estonia in July 2000, weeks after completing a hat-trick of wins on the Isle of Man.
In a remarkable career he had 26 TT wins - five more than Morecambe's John McGuinness, who is still racing.
The tribute is an official part of the Isle of Man Classic TT Festival of Motorcycling and was first held in 2010.
Organiser Kevin Quirk, of the Joey Dunlop Foundation, said: "Everybody loves Joey Dunlop. We do this memorial lap every year and usually have around 400 bikers, now we have almost 2,000.
"The bikes go as far as you can see and the atmosphere is brilliant."