Yorkshire racer Gary Firth died from multiple injuries in crash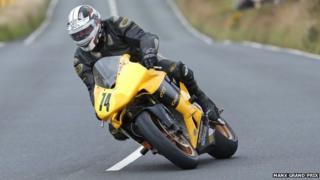 A motorcycle racer died from massive blunt force trauma sustained in a high-speed crash in the Senior Manx Grand Prix race, an inquest has heard.
Gary Firth, 50, from Yorkshire, was killed in the crash at the 11th Milestone on the TT course in August.
Coroner John Needham said the self-employed plumber from Barnsley suffered multiple injuries.
Mr Needham opened and adjourned the inquest at Douglas courthouse to a date to be fixed.
Firth finished 34th in the Newcomers A race and had recorded his fastest lap of 102.282mph in the Senior race before his accident.
Two other riders were involved in the crash and investigations are ongoing.
Mr Firth was one of three riders to have lost their lives at this year's Isle of Man Festival of Motorcycling, which incorporates the Classic TT and Manx Grand Prix.