'Hero' award for Isle of Man children worker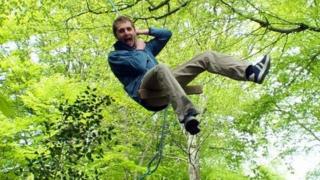 A children's play worker from the Isle of Man has won a national competition run by the BBC Countryfile magazine.
Chris Gregory from the Children's Centre was nominated for the Professional Wild Hero award for his work promoting child's play.
He received 380 online votes from a total of 933 (41%) after being short-listed by competition judges.
Mr Gregory said the award highlighted the "fantastic opportunities" offered to children on the Isle of Man.
Chris Gregory has been involved in an initiative called Right to Play which encourages children to have the freedom to interact and play outdoors.
The Professional Wild Hero Award is given to child workers who go beyond the call of duty to open youngsters' eyes to the natural world around them.
Nominations for the award were open to teachers, social workers, healthcare professionals, and play workers.
The Isle of Man Children's Centre is a charity which runs services including fostering, residential homes and family centres.