IoM visit for Parkinson's sufferer on 650-mile walk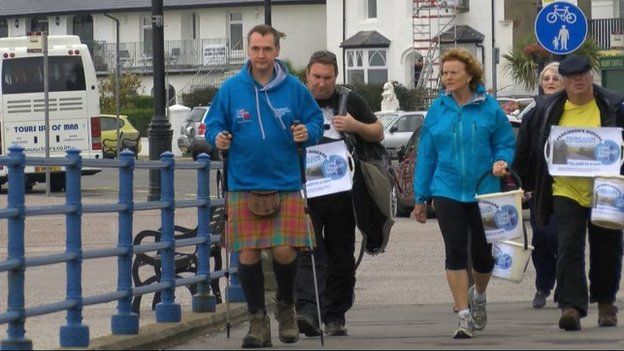 A Parkinson's disease sufferer has visited the Isle of Man as he bids to walk between Land's End and John O'Groats in a straight line.
John MacPhee, from Inverness, is aiming to complete the 650-mile trip in one month and raise £25,000 for research.
He was diagnosed with the disease three years ago and said he wants to "do his bit to find a cure".
The 49-year-old believes it is the first attempt to walk the route in a straight line.
Parkinson's is a progressive brain condition that can cause shaking, slow movement and stiff muscles.
Speaking on the latest leg of his journey in Douglas he said: "The line between John O'Groats and Land's End cuts across the Isle of Man.
"I believe it is the first time anyone has attempted to walk this route in a straight line - so every step is unique".
On completing the Manx leg of his journey he will travel by boat to Kirkcudbright.
He has raised more than £15,000 so far. He aims to complete his journey on 6 October.
Related Internet Links
The BBC is not responsible for the content of external sites.