Douglas railway station: £1.4m scheme outlined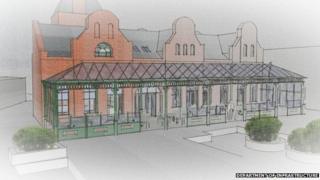 A £1.4m scheme to "preserve the integrity" of Douglas's 124-year-old railway station has been proposed by the Department of Infrastructure.
The scheme would include the improvement of passenger facilities, disabled access and a better commercial focus.
Phil Gawne MHK said the building had "suffered from a lack of investment over many years".
It was built in 1890 and put on the Protected Buildings Register in 1984.
Mr Gawne said the works would "preserve the integrity of the original exterior" but "transform the interior to ensure the station's future".
The plans include new retail space, refurbished ticket rooms, a first floor mezzanine and internal toilets.
The scheme will require planning consent from the Council of Ministers and full Tynwald support to progress.