Festival of Motorcycling contributes £6m to IoM economy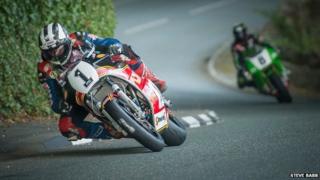 The Isle of Man's Festival of Motorcycling has shown "significant growth" for a second consecutive year, the Manx government has said.
The two week event, which incorporates the Manx Grand Prix and Classic TT, now contributes more than £6m to the island's economy.
David Cretney MHK said the figure was "very encouraging."
Last month, ferry operators said the number of people visiting during the festival was the "highest in a decade."
According to Steam Packet Company, passenger numbers were up by 1,100 compared to 2013's figures, to 29,460.
There was also an 11% rise in the number of motorcycles brought to the island.
The figure of 3,697 is the highest in more than 20 years.
Steam Packet bosses said it continued a positive trend for passenger figures this summer, which included the busiest TT period since its centenary in 2007.
The Isle of Man Airport Authority also reported an increase of almost 12% this year in the number of inbound and outbound passengers through Ronaldsway Airport during the festival fortnight.
Mr Cretney added: "These encouraging figures are an effective benchmark of the success of the rebranded event."