Isle of Man ferry returns to 'full power' after engine repairs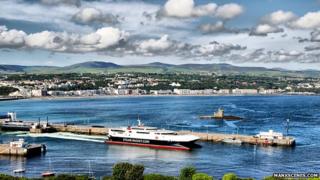 Normal ferry services have resumed between the Isle of Man and Liverpool after weeks of disruption following mechanical failure.
One of four engines on the Manannan fast craft was damaged by discarded fishing gear during TT week in June.
Since then, the Steam Packet Company vessel has been operating on reduced power with longer journey times.
A spokesman said all repairs are now complete and normal service has been resumed.
Chief Executive Mark Woodward: "It had been hoped these repairs would be finished in time for the Isle of Man Festival of Motorcycling [September] but once work started it became clear the damage was not just to the crankshaft."