Isle of Man group formed to tackle dwindling fish stocks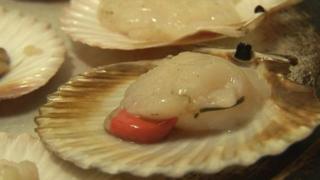 A committee has been set up in the Isle of Man to tackle growing concerns over dwindling fish stocks in Manx waters.
It is hoped the science steering group will bring closer working relations between the government and fishermen.
The Manx Queen Scallop fishery is now strictly monitored after recent research showed a 50% fall in reserves.
A government spokesman said the steering group aimed to balance the needs of the fishing industry with attempts to replenish fish stocks.
It will consist of government representatives, scallop fishermen and the Manx Fish Producers' Organisation (MFPO).
The Isle of Man government has the final word on all fishing rights within 12 miles of the island.
Recent fishing restrictions include the complete closure of several Queenie beds and the introduction of fishing licences.
In 2013, the total catch allowed was 4,000 tonnes, which the government said represented an income of about £3m.
Last year, it was reduced to about 1,000 tonnes, representing an income of about £750,000.