Isle of Man election fraud trial cost nearly £1.4m in legal fees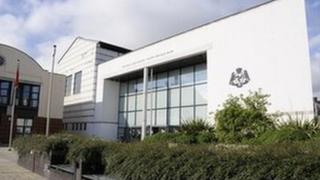 An election fraud trial cost Isle of Man taxpayers nearly £1.4m in legal fees, the Manx government has said.
Three people were convicted in December 2012 after the five-week trial, with Charles "Buster" Lewin being jailed for three-and-a-half years.
Gail Corrin and Kerry Rothwell were both handed suspended sentences.
All three were working on behalf of the Manx Election Trust which represented Kevin Woodford in the 2010 Douglas East by-election to the House of Keys.
His by-election campaign to become a Member of the House of Keys was ultimately unsuccessful.
Manx treasury minister Eddie Teare said the cost to the taxpayer of the trial had been "significant" and that "further examination" was needed.
Source
Expenditure
Legal Aid Fund
£526,012
Central Funds (In relation to unsuccessful prosecution costs)
£379,336
Dept of Home Affairs (Constabulary)
£11,747
Attorney General's Chambers
£365,003
Other (Jurors, courts, coroners)
£95,157
Total
£1,377,255
Mr Teare said more than £526,000 was spent on legal aid during the trial and that the first consultation in 14 years has since been launched into who should qualify for legal aid.
He also said he has spoken to the Manx Attorney General's chambers about the £666,264 paid to UK counsel during the trial.
Mr Teare said the matter of how and under what circumstances UK counsel and QCs are appointed would benefit from a general review.
Corrin and Rothwell were found guilty of conspiracy to affect legal purposes by improper means at Douglas courthouse.
Before the trial, Lewin admitted the same charge as well as conspiracy to steal and conspiracy to forge.
Lewin was manager of the Manx Election Trust which represented Woodford.
Isle of Man resident Mr Woodford, best known for appearances as a chef on BBC television programme Ready Steady Cook, told the court as a witness that he was not aware of any election fraud taking place.