MusicLab: Manx children to receive 'pioneering' digital music lessons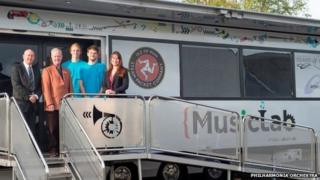 Hundreds of children will be taught "pioneering" music lessons by the London-based Philharmonia Orchestra in the Isle of Man this week.
The orchestra has brought over its state-of-the-art MusicLab as part of the Island of Culture celebrations.
Event manager Emma Quirk said it was a "real coup for the Isle of Man".
Using cutting-edge digital technology, children can experience what it feels like to be a composer, performer or producer in the mobile classroom.
'Unearth stars'
Mrs Quirk added: "MusicLab is part of a ground-breaking digital education project called iOrchestra."
It is the first time the orchestra's new mobile 'pop-up' experience has travelled outside mainland Britain.
Island of Culture Director Michael Lees said: "We hope it inspires our young people to try something new, perhaps creating a spark or two that could lead to unearthing our new musical stars of the future."
Three MusicLab activities
1. Chorus Booth (a mini recording studio)
2. The Console (try your hand as a composer)
3. The Instruments (have a go at French horn, timpani, cello and clarinet)
The Isle of Culture will run throughout 2014 and focus on promoting creativity and the arts on the Isle of Man.