Isle of Man horse tram plans display extended due to 'overwhelming popularity'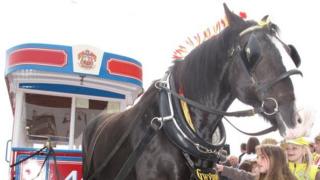 The "overwhelming popularity" of an exhibition encouraging feedback on plans to relocate the Douglas horse tram track has led to its extension.
More than 2,500 people have visited the display, which highlights two options for where the 140-year-old track will be moved during a promenade revamp.
Infrastructure minister Phil Gawne said the extension is due to "significant interest".
The display will now remain open until 24 October.
Under the plans, the 1.6 mile (2.6km) horse tram track will be moved to either the highway side of Marine Gardens or the promenade walkway as part of a multi-million pound overhaul of the area.
The proposals both feature the same layout beyond the War Memorial to Strathallan Crescent.
Mr Gawne added: "We don't want anyone to miss the opportunity to have their say."
Nearly 500 people have also written to the Department of Infrastructure (DoI) to express their opinions.
A DoI spokesman said: "All feedback will be taken on board ahead of further discussions with Members of Tynwald."
| Option 1 | Option 2 |
| --- | --- |
| Highway next to the Marine Gardens | Promenade Walkway |
The Douglas horse trams have been in existence since 1876 and have been operated by Douglas Borough Council since 1902.
The council's Susan Harrison said the service is "unique and irreplaceable."
Designs, technical information and artists' impressions can be seen at the Sea Terminal in Douglas.
This year about 60,000 people used the service which, according to the council, ran at a loss of about £225,000.