Isle of Man police cuts raise public concerns over law and order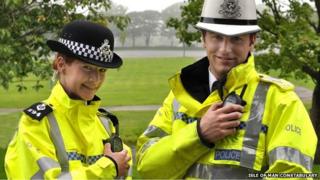 Law and order should be made a priority after cuts to the Isle of Man police budget, said a police liaison group.
The Manx force must save £900,000 in the next two years which means the loss of 25 jobs and two police stations.
The independent Police Consultative Forum (PCF) called for budgets to be restored as soon as possible after a public vote was held in Peel.
The Isle of Man Constabulary is being "redesigned" into a more sustainable model, said a government spokesman.
Hundreds of residents attended police meetings across the island to discuss the future of the policing.
PCF chairman Colin Cain said: "Many participants called for law and order to be given an even higher priority and for the constabulary to be protected from any further cuts.
"The events showed just how highly the work of the Isle of Man Constabulary is valued."
Home Affairs Minister Juan Watterson said: "The chief constable and I have said that we believe further reductions could not be absorbed without there being an impact on our commitment to protecting vulnerable people," he continued.