Isle of Man seal pup deaths 'highest' in six years - Manx Wildlife Trust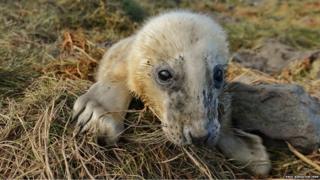 Stormy weather has caused the highest number of seal pup deaths around the Isle of Man coast for six years, according to wildlife experts.
The Manx Wildlife Trust said there have been six confirmed in the Calf of Man islet so far this year.
Spokeswoman Lara Howe said pups can become exhausted or get battered against the rocks by high waves.
It is thought female seals return to the islet off the south coast every year because of its secluded position.
Ms Howe added: "It's a sad sight but all part of the natural process - this year has been particularly harsh and we have suffered the greatest number of mortalities since the surveys started."