Manx Electric Railway: First bridge repairs 'for 116 years' approved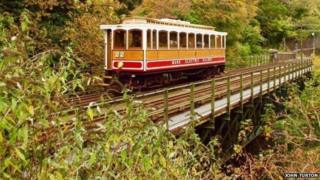 Track repairs to the Manx Electric Railway (MER) costing almost £1.3m have been approved by Tynwald.
Phil Gawne MHK said "significant" work was required at Ballure Bridge after an inspection identified corroded sections and "ineffective" rivets.
The work may be the first structural repairs to the bridge for more than a century, ministers were told.
Work will begin once the current Manx Electric Railway season closes on 2 November.
The 52-metre bridge above Ballure Glen, built between 1897 and 1899, carries two of the MER tracks.
An inspection in 2010 identified the structural repairs that the department will now undertake this winter.
These include replacing corroded metal sections, ineffective rivets and timber-supporting steel beams.
Ramsey MHK Leonard Singer said: "The bridge's supporting timbers have not been replaced for 34 years but the most shocking fact is there is no evidence of any structural repairs for 116 years."
The whole structure will also be re-painted in a high integrity marine-standard coating.
Part of the track between the bridge and the main Laxey Road crossing will also be renewed as part of the scheme.