Man arrested in connection with 13 burglaries in the Isle of Man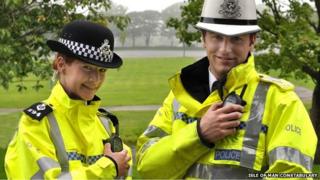 A man has been arrested in connection with 13 burglaries at homes across Douglas, Santon and the south of the Isle of Man, police have said.
In the majority of cases electrical goods and cash were taken from unlocked and unoccupied homes between 10:00 and 14:00 GMT on weekdays.
Police said the arrest followed a "dramatic increase" in opportunistic burglaries since September.
The man from Douglas has been released on bail pending further enquiries.
Dt Sgt Michelle McKillop said: "These sort of burglaries are not common on the Isle of Man and we urge the public not to make it easy for burglars.
"We are asking people to be security conscious, especially in the run-up to Christmas."
Anyone with information is asked to contact police headquarters.