Isle of Man government plans to increase state pension age to 74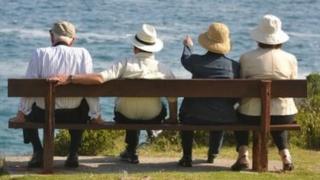 Plans to increase the state pension age on the Isle of Man to 74 have been announced by the Manx government.
If implemented, the proposal would apply for anybody born from 2011.
The state pension age for men on the island is currently 65. By 2018 the same age will apply for women.
The Treasury department said "radical change" was needed following a report which said the pensions system was "out of date" due to the Isle of Man's ageing population.
The 600-page report, produced by consultants Ci65 Ltd, said the current system had not kept pace with demographic trends.
Ageing population
There are currently about 35,000 people on the Isle of Man contributing to the National Insurance fund, compared with 18,000 who are drawing pensions.
The latter figure, according to the Manx government, is expected to rise by 93% over the next 30 years.
At the moment a worker would be expected to contribute National Insurance payments for 30 years to qualify for a full state pension, but that could increase to 45 years.
It would mean those born on the island since 2011 could be expected to work until they are 74, with those born in the 1970s expected to carry on until they are 70.
The Treasury department said the proposals, which will go before Tynwald next year, will not affect existing pensioners.