Injured grey seal prompts Isle of Man litter warning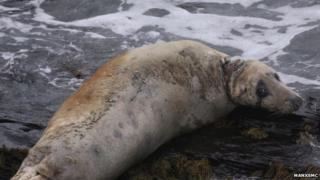 A pregnant grey seal photographed with fishing line wrapped around its neck has prompted a litter warning from the Manx Wildlife Trust (MWT).
The seal was photographed during a survey of seal births around the Calf of Man.
Discarded fishing gear can injure and kill many marine animals, said a MWT spokeswoman.
The survey revealed the highest number of seal pup deaths around the Manx coast for six years.
The organisation said about 50% of all calves born had been drowned due to the stormy conditions which mean pups become exhausted or get battered against the rocks by high waves.
MWT spokeswoman Lara Howe said 2014 has been particularly harsh year for young grey seals.
"Unfortunately, the rough weather also makes it more likely that marine litter will be washed up and we certainly saw plenty surrounding the seals.
"This is not the best start for either a mum or a pup - plastic debris can injure or be ingested by an individual".
The Manx Wildlife Trust has been conducting grey seal pup surveys since 2009.
Birth numbers traditionally reach about 50 during the pupping season which usually lasts a couple of months.