'Serious concerns' over Manx NHS monitoring, report finds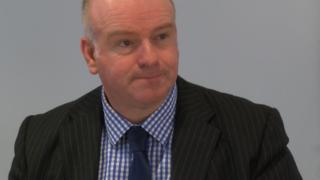 The Manx health service lacks the framework needed to monitor and improve medical standards, said inspectors.
The West Midlands Quality Review Service (WMQRS), expressed "serious concerns" about a lack of "clinical governance" within the Manx NHS.
The watchdog was commissioned to undertake a review of the island's health service last November.
Health Minister Howard Quayle said changes had already been made to address the problems.
Clinical governance is the system which holds NHS professionals accountable for upholding and continuously improving standards.
The inspection team's report said: "Reviewers were seriously concerned an overall clinical governance framework was not in place."
It added: "They were not therefore assured that appropriate arrangements for monitoring and improving the quality and safety of health services were in place".
'Seismic shift'
Mr Quayle said the health service had been working to develop a structure with "clearer lines of responsibility and accountability".
"There has been a seismic but necessary shift in the management and organisation of our health and social care system since the department of health and social care was formed in April," he said.
"I am confident that we can now move to develop a robust and integrated system of clinical governance that can cut across historic silos to focus on high quality outcomes".
Areas praised by the report included "enthusiastic leadership", a "clean, uncluttered and calm" hospital, and a "high commitment to health and safety" within the mental health services.
The recently published report is the third phase of a £200,000 review commissioned by the Manx government last year.
The first, which took place last November, looked into Accident and Emergency, Theatres and Anaesthetics and Critical care.
The second was held on 12 March to focus on acute medical admissions and the care of adults with long-term conditions.