Manx government agrees to halve planned 50p school bus fares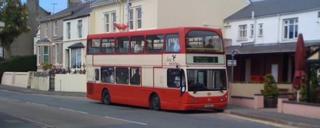 Government proposals to charge children for travelling on school buses across the Isle of Man have been modified.
The Department of Infrastructure (DoI) originally proposed to introduce a 50p fare, but now says it will be 25p.
Infrastructure minister Phil Gawne said he hoped the move would "reduce the financial impact on families".
It is the second U-turn from the department within 24 hours, following the decision to scrap plans to introduce some parking charges.
The DoI said there was strong public support for the reintroduction of school bus fares - which were abolished in 1990 - during a recent consultation exercise.
Operating the Isle of Man's 32 daily school service routes currently costs £1.25m a year.
The new charge, to be introduced in January, will still cost families around £100 per child per year.
The shortfall in planned revenue will be made up by other departments.
Mr Gawne said: "I feel 25p per journey is a reasonable amount in what is an extremely challenging financial environment.
"Changes are urgently needed to ensure its long-term sustainability."
The charge is part of a range of measures aimed at saving £500,000 by next April.
The U-turn follows the announcement that plans to increase parking charges on Douglas promenade have been dropped after a backlash from retailers.
Douglas Borough Council opposed the plan as "another nail in the coffin" for the town.