Missing basking shark tag reward offered on Isle of Man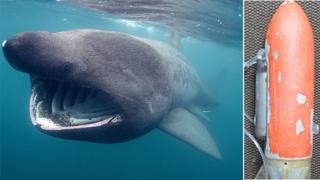 A reward is being offered for the return of basking shark tag thought to have been washed up in south Wales.
The device, about six inches (15cm) long, came off one of the sharks tagged by researchers from the Manx Basking Shark Watch (MBSW) team.
Marine biologist Jackie Hall said, if found, the satellite tag - worth about £1,000 to researchers - could be refurbished and reused next year.
She added: "The tag came off after 448 days on a shark called King Orry."
"We know King Orry's tag is on a beach in south Wales, about 12 miles east of Tenby and about 4.2 miles west of Llanmiloe- it is probably mixed in seaweed on the high shore".
Basking sharks
Basking sharks are the second largest fish in the world and feed on plankton
They can grow to 11m (36ft) and weigh up to seven tonnes
The sharks are protected in UK waters but still hunted around the world for the finning industry
The sharks are frequently spotted off the British Isles between May and September
They are listed as threatened species by the International Union for Conservation of Nature
In 2008 a female basking shark tagged near the Manx coast travelled across the Atlantic to Canada
The satellite technology is called smart position or temperature (SPOT) tagging and is used by scientists to find out more about where basking sharks travel during the winter and to what depths they can swim.
The tags are attached to the dorsal fin of the shark by scientists working for the government-licensed MBSW organisation.
Mrs Hall said the King Orry shark proved to be an unusual case.
"He didn't surface for a whole year after he was tagged, proving yet again that these rare an endangered species spend the vast majority of their time at depth and that they need protecting in their deep-sea habitats as well as when they are at the surface."
It is hoped the research will ultimately lead to increased levels of international protection for basking sharks.
The Manx Basking Shark Watch has tagged a total of 26 sharks over several years.
The work has showed that many of those tagged are resident in the Irish and Celtic Seas, with some feeding off the North West of Scotland.
More information is available on the Manx Basking Shark website.