Isle of Man horse trams: Passenger numbers show 3.6% increase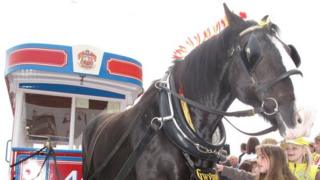 The number of passengers using the Douglas horse trams rose by 3.6% on the previous year, the council said.
According to a report, about 62,000 passengers used the 140-year-old service during the 2014 season.
The council said an increase in cruise visitors and coach package holidays as well as a vigorous social media campaign were factors in the increase.
Councillor Stephen Pitts said the "public's affection for the unique attraction was encouraging."
"Given the current economic climate and recent year-on-year falls in passenger arrivals to the Island these figures are most encouraging".
Despite the rise in passengers, the horse tram service ran at a loss of about £250,000 this year.
The Isle of Man government is currently considering plans to relocate the tram tracks at a cost of £4m which mean the service would not start again until 2016.
The proposals involve moving the tracks either to the highway side of Marine Gardens or directly on the promenade walkway as part of a major overhaul of Douglas promenade.
The Douglas Bay Horse Tramway runs along the promenade for 1.6 miles (2.6 km), from the Victoria Pier to Derby Castle.
It has been in operation since 1876 and is one of the oldest horse-drawn tram services in the world.