Isle of Man motorcyclist Gary Hubble died 'enjoying life'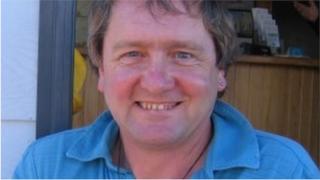 An experienced motorcyclist from the Isle of Man died as a result of a "tragic accident", an inquest has heard.
Gary Hubble, from Sulby, crashed on the A3 Lezayre Road at about 10:30 BST on 3 June.
The Essex-born IT engineer, 53, hit a Vauxhall Zafira and was thrown from his Yamaha machine into the path of an oncoming motorbike.
Douglas courthouse heard he would have died instantly from head injuries.
Coroner John Needham recorded a verdict of accidental death on Thursday and said Mr Hubble was a "hard-working family man who had died enjoying life".
'Highly competent rider'
Mr Hubble had been riding around the TT course with his friend Stephen Weller when he hit the car, which had been indicating to turn right onto Garey Road.
The court heard the car's driver, who had her two young children in the back seat, felt a "slight thud" but her car did not move.
The impact threw Mr Hubble into the path of a visiting biker who was travelling in the opposite direction.
The impact sent the biker from Leicestershire and his daughter, who was riding pillion, over the handlebars and into the road.
Ellys Jordan said she saw something slide in front of them and the next thing she was "flying over her dad's shoulders".
Her dad Phillip said he saw what he thought was a bike sliding towards them and couldn't avoid the collision.
Both were taken to hospital but did not suffer serous injuries.
The court heard no-one involved in the accident had been speeding.
Mr Weller described Mr Hubble, whom he had known for several years, as a "highly competent rider who didn't take risks."