Arctic explorer Cathy Mitchell completes TT tyre pull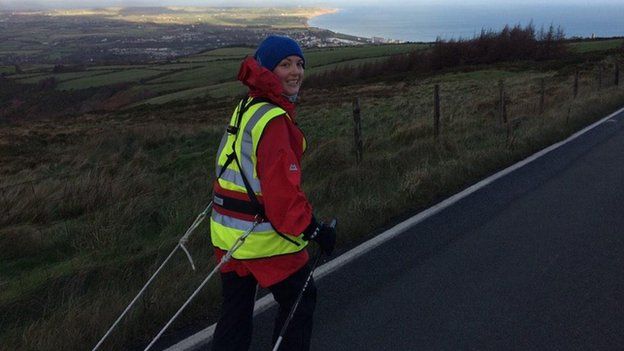 A Manx woman has dragged a 15kg car tyre around the TT course to prepare for an "extreme" polar challenge.
Cathy Mitchell, 30, is in training to reach the previously unconquered Northern Pole of Inaccessibility in February 2015.
She completed the 38-mile (61 km) walk on Sunday in about 15 hours, starting and finishing in total darkness.
In the Arctic, she will have to drag her equipment over 840 miles (1,350 km) in temperatures of minus 50C.
The office worker is taking on the challenge in memory of her late brother who loved exploring.
"I had some funny looks with lots of beeping and waving," she said.
The Ice Warrior Arctic Pole Expedition is described as a "world first expedition" to the "unconquered Everest of the Arctic" and will be led by the hugely experienced explorer Jim McNeill.
The Arctic pole lies in the centre of the Arctic Ocean.
It is more than 200 miles north of the geographic north pole and is one of the last significant places in the polar regions that humans have not yet reached.
Miss Mitchell said: "I wanted to take on something that pushes me and this is the most extreme challenge I could find - the scale of it is mindboggling."
Adding: "It is definitely mind over matter and this has definitely helped me prepare for the challenge of my life."
Miss Mitchell is also raising money for the mental health charity SUN in memory of her late brother.
Related Internet Links
The BBC is not responsible for the content of external sites.