Gales force Isle of Man ferry sailings to be cancelled or rerouted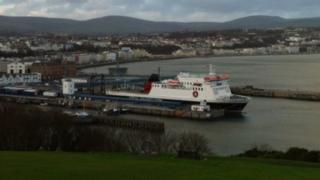 Gales in the Irish Sea forced the cancellation of Thursday's early ferry from the UK to the Isle of Man.
The Isle of Man Met Office has predicted gusts of up to 50 mph (80km/h) in the Irish Sea, dropping into this evening and overnight.
The Steam Packet Company cancelled all services between Douglas and Heysham on Wednesday because of the weather.
The 08:45 sailing from Douglas to Heysham was rerouted to Birkenhead and departed 45 minutes early.
The 14:15 return crossing will also depart from Birkenhead instead of Heysham but the 19:45 crossing will depart from Heysham as scheduled.
Passengers are advised to contact the Steam Packet Company for more information.