Ramsey: Handcuffed man rescued from Isle of Man harbour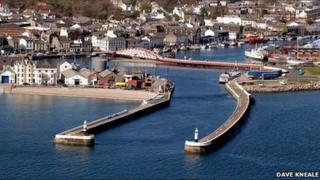 A handcuffed man dived into a harbour before being rescued by the two police officers who had just arrested him.
It happened on Saturday at about 11.50 GMT when the man jumped into Ramsey harbour after being detained and handcuffed by officers.
A Manx Constabulary spokesman said two officers followed him into the water with rescue equipment when it became clear that he was "out of his depth".
He was taken to hospital and treated by the mental health service.
Both police constables are said to have suffered "minor injuries".
Anyone with information about the incident is asked to contact Ramsey police station.