Isle of Man: Dolphin sightings soar around coastline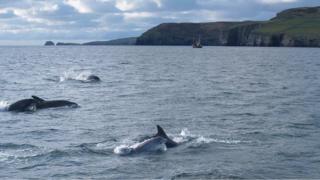 Dolphin sightings around the Isle of Man coast rose by more than 30% during 2014, according to marine experts.
The Manx Whale and Dolphin Watch (MWDW) recorded a total of 40 sightings last year compared to 26 in 2013. Most were spotted from the east coast.
Bottlenose dolphins are frequent winter visitors to Manx waters and are often seen in pods of more than 100.
Jen Adams from the MWDW said: "These very large pods tend to come very close inshore to feed."
'Acrobatic skills'
She added: "Their amazing acrobatic skills and speed can create so much disturbance that they can easily be seen when the sea is calm".
According to MWDW statistics, about 70% of Bottlenose dolphins sightings are reported between October and March.
"This is atypical of most cetacean species - other species are seen more frequently during the summer around the island," continued Ms Adams.
"The Isle of Man is one of the only places in the British Isles where Bottlenose dolphins are so prolific during the winter months."