Isle of Man burglaries: Police warn against vigilante-style action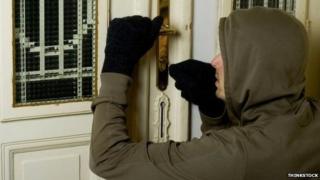 Isle of Man residents have been warned by police not to attempt vigilante-style attacks on attempted burglars.
The warning follows an "unprecedented" spate of burglaries on the Isle of Man which has led to what police called "wild speculation" on social media.
About 30 burglaries and attempted break-ins have been reported across the island in the past 10 days.
Extra staff have been deployed, said the Manx Constabulary, and additional patrols continue.
'Untested information'
Incidents have been reported in Douglas, Onchan, Castletown, Port St Mary and Lonan.
A police spokesman said "circulating untested information on Facebook puts others at risk and people must stop doing this".
Police said they created more than 130 incident logs on Monday, which is 80-100 more than is typical in January.
The spokesman added: "Much of the information coming in from the public is fantastic and will help to crack the case."
But Insp Derek Flint said: "A call to us with information is much more productive than the wild speculation that some individuals are resorting to on social media.
"Whether it is something that you see happening or a snippet that you've heard about someone being involved, ring us and we will do the rest."