Isle of Man sea defences: Public opinion sought over £32m plans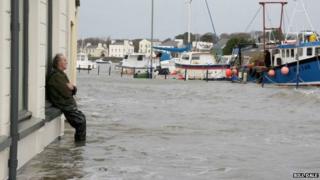 Isle of Man residents have been encouraged to give feedback on the potential spending of more than £30m on long-term sea defences.
Four presentations will be held across the island this month to highlight options published in a recent report.
The report focussed on seven towns deemed most at risk of coastal flooding, with the total cost of preferred options estimated at £31.8m.
The talks will take place on 26 and 27 February.
New sea defences being considered for Castletown, Douglas, Laxey, Ramsey, Peel, Port St Mary and Gansey include raising harbour walls and tidal gates.
All seven towns experienced coastal flooding during storms early last year.
Infrastructure minister Phil Gawne said he wants local communities to play a "leading role in the decision-making process".
JBA Consulting, who carried out the report, will present the findings of their research at the talks and explain the different options.
Flood protection options
Raised harbour walls
Set back walls
Tidal gates
Rock armour
Beach recharge schemes
Source: IoM Flooding and Wave Overtopping study
Mr Gawne said: "We are looking at options that will protect our towns and ports from the impacts of climate change for the next 100 years."
Meetings will be held in Laxey and Castletown on 26 February and Port St Mary and Ramsey on 27 February.