House of Keys to elect new Legislative Council members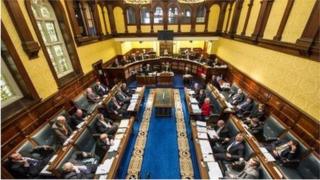 A special sitting of the House of Keys will be held next month to elect four people to the Isle of Man's Legislative Council, the government has announced.
The Legislative Council is the upper branch of Tynwald, the island's parliament, and has 11 members.
The four seats will become vacant on the 28 February when the terms of office of Dudley Butt, Phil Braidwood, Alex Downie and Alan Crowe expire.
Elections to the Legislative Council will be held on 16 March at 10:00 BST.
Members (MLCs), who must be at least 21 and resident in the Isle of Man, are elected by the island's Members of the House of Keys (MHKs) by secret ballot for a two-year term.
Each candidate must have the support of at least 13 MHKs to be elected.
The Legislative Council, which primarily acts as a revising chamber for bills, includes eight elected members, the President of Tynwald, the Bishop of Sodor and Man and the Attorney General.
Members of the public can attend the sittings when voting takes place but cannot take part in the voting process.