Isle of Man mobile banking service replaces three branches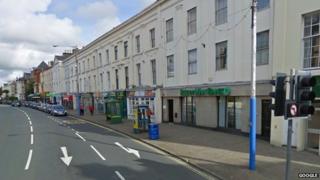 A new mobile banking service will be launched by Isle of Man Bank next month to coincide with the closure of three of its branches.
Last October the bank announced it was to shut its Ballasalla, Onchan and Prospect Terrace in Douglas sites due to a "fall in customer demand".
The growth of telephone and internet banking has been blamed for a 30% fall in physical customers over four years.
The mobile service 'Penny' will tour the island next week.
Isle of Man Bank area manager Deniese Smith said mobile banking will ensure services are available to communities including Onchan, Kirk Michael, Laxey, and Ballasalla.
"It will also offer help with online banking", she added.
According to the bank, the mobile service is equipped with satellite technology and will offer the same as conventional branches.
It will formally begin on 2 March - three days after the three branches close.
They are the latest to shut after the closure of the Laxey sub-branch in October 2013 and the Kirk Michael branch in August 2012.
Next week's schedule
Monday 23 February
Ballasalla 10:30-12:00
Port St Mary 13:00-14:00
Tuesday 24 February
Foxdale 10:00-11:00
Ballaugh 11:30-12:30
St John's 13:15-14:45
Wednesday 25 February
Laxey 10:00-11:30
Onchan 12:30-14:30
Thursday 26 February
Kirk Michael 10:00-11:00
Cooil Business Park 13:00-14:30