Manx queen bees 'in demand' after disease-free ruling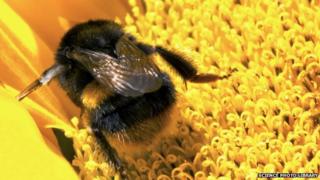 The European Union has declared the Isle of Man as being officially free of the Varroa bee pest.
According to scientists the parasitic mite has helped a virus wipe out billions of honeybees around the world.
The Isle of Man government has been working with local beekeepers to gain disease-free status since 2008.
The Department of Environment, Food and Agriculture (DEFA) spokesman said the ruling would provide an "important economic and environmental boost".
Chairman of the Isle of Man's Bee Improvement Committee Keith Osbourne said queen bees from the island will be in "great demand."
He said: "We are still lucky here that we haven't got the Varroa mite and our queen bees will be at a premium".
According to DEFA the Isle of Man has more than 800 beehives in full use.
A spokesman added: "While the importation of bees has long been prohibited on the island, formal recognition that Manx bees are free of disease is important for exports to the UK and Europe."
Environment Minister Richard Ronan said it has been a "long and rigorous process" and that Isle of Man bees could now have a "vital role to play in providing bees for research".
He said: "We've reached a position where we can fully protect our bee population and maintain and develop its genetic heritage for future generations."
Varroa-free queen bees are already exported from the island to England, Ireland and Germany for research.
The island's bee inspector Harry Owens said: "I'm pleased beekeepers were so closely involved in gaining international recognition for the disease-free status of our bees."