Victorian 'Bad Girls' in Isle of Man exhibition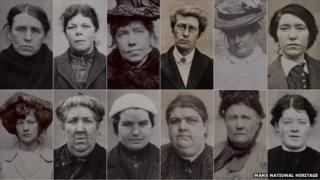 Pickpockets from a bygone age on the Isle of Man are to feature in a new local women's history exhibition.
A series of mugshots, entitled "Victorian Bad Girls", shows many of the career criminals who were convicted of larceny during the late 1800s.
The women often came over from the UK to specifically target holidaymakers during the heyday of Manx tourism.
Nicola Tooms from Manx National Heritage (MNH) said the pictures were quite rare.
She added: "It's uncommon to have images of working-class criminals from this time - it's more usual to see pictures of women from middle and upper-class families. This is one of the reasons we wanted to tell this story.
"They are not all the young things you might expect, some of them are in their 60s, they are seasoned criminals".
'Seasoned criminals'
At the turn of the 19th Century, the Isle of Man was a popular getaway for rich British families.
With its world-famous horse trams and sweeping bay, Douglas was once home to a string of thriving guesthouses and hotels.
But it also became home to the Victorian Bad Girls who gathered on the promenade to find their victims.
"People on holiday would have been letting their hair down a bit," continued Ms Toombs.
"They wouldn't necessarily have been on their guard - they certainly wouldn't have been expecting the criminals to follow them over the water.
"One interesting story is about a tourist called Mrs Brown who was leaning over the sea wall opposite the Jubilee Clock admiring the view when she was spotted by a pair of thieves.
"Mary Lee and Jane Barr approached Mrs Brown and took her purse before being apprehended by police."
They were both sentenced to one month's hard labour.
Ms Toombs added: "These are not opportunistic criminals, some of them wore huge capes and skirts designed to conceal money and purses.
"One of the Deemsters made a comment about the thieves not only stealing money but also stealing people's chance for a holiday of a lifetime."
More information is available about the Victorian Bad Girls at Castle Rushen, one of seven Manx National Heritage sites involved in the History in Heels exhibition which runs between March and December 2015.
History in Heels also marks the centenary of the National Federation of Women's Institutes and celebrates the 65th anniversary of the formation of the Isle of Man Women's Institute.