Isle of Man pulls from Conifa European Football hosting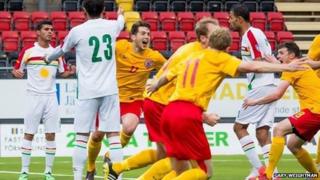 The Isle of Man has pulled out of hosting the 2015 ConIFA European Football Championship next June, organisers have announced.
Hosting rights were awarded to the Manx International Football Alliance (MIFA) last year, but now the week-long tournament will be held in Hungary.
The inaugural tournament of the world cup for non-Fifa nations was held last year in Östersund, Sweden.
A ConIFA spokesman said the decision is down to "unforseen travelling issues".
He added: "The limited numbers of ferry tickets directly after the TT Races made it impossible to fit the needs of the teams and the large number of fans wanting to see the matches.
"In addition, financial backing of local companies, investors and government did not materialise as MIFA originally believed.
"These reasons combined made it difficult to organise and finance a tournament on the Isle of Man alone."
The tournament, which is expected to involve 12 teams from all around the world, will take place in Budapest between the 13 and 21 June.