Isle of Man cancer delays highlighted by UK health watchdog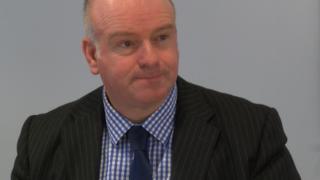 "Serious concerns" about delays in diagnosing new cancer patients in the Isle of Man have been raised.
The West Midlands Quality Review Service (WMQRS) found that, for some patients, the current practice was delaying diagnosis "by up to a year".
In October, the fourth phase of the £200,000 review - commissioned by the Manx government - looked specifically into the island's cancer services.
The report said there were "widespread" problems in the referral system.
It added: "Some referrals were re-prioritised as 'routine', including some for patients with imaging reports indicating suspected cancer.
"For some this practice was delaying diagnosis by up to a year."
A Manx government spokesman said work is already under way to address the issues.
Recruitment 'delayed'
"A Quality Improvement Programme Board has been put in place to give leadership and drive to the implementation of the Cancer Plan.
"Detailed analysis of cancer-related data has been commissioned from North West Cancer Intelligence Unit to provide clear and accurate data about the incidence, waiting times and outcomes for patients," he continued.
The 30-page report goes on to commend the breast cancer department as a "forward-looking" service.
It also said the chemotherapy department was "working hard to deliver a good service within the resources available". Funding is said to have been approved for more chemotherapy staff although recruitment had been "delayed".
Both staff and patients were also said to be "very positive" about Hospice Isle of Man.
Reviewers said: "It was clearly a forward-looking organisation providing very high quality care - the positive approach to care by staff has been commended by the Times newspaper".
Good practice was also noted in the specialist areas of Acute Surgery, Urology, and Ear, Nose and Throat.
Health Minister Howard Quayle said: "Work continues apace to create a sustainable, high quality, value-for-money health service."